A few days ago, Google presented the Pixel Slate, their brand new tablet called out to be a highly versatile device that really makes them competitive in the market.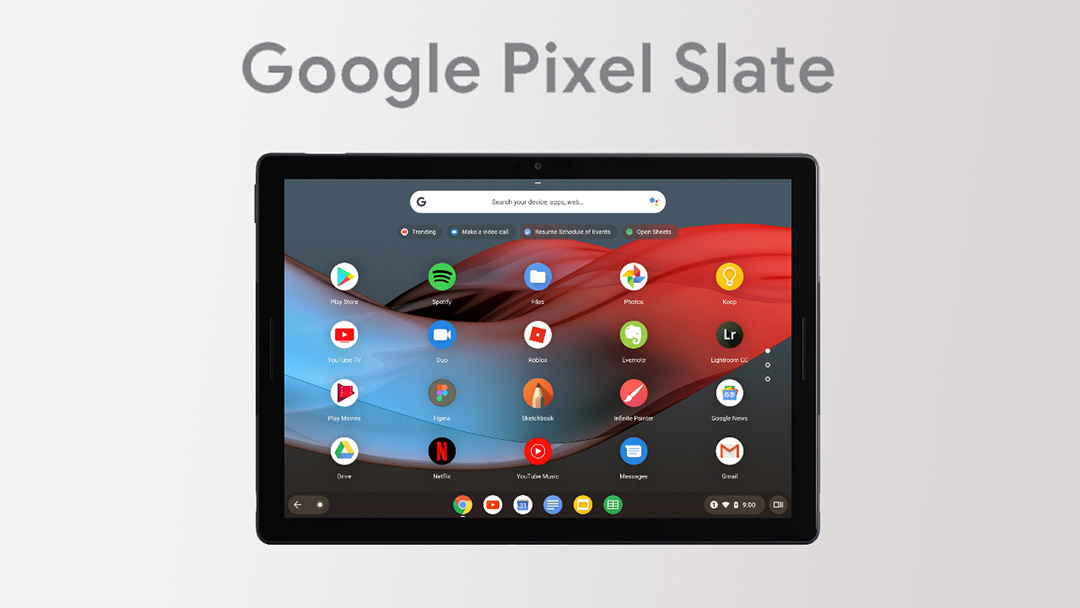 The Google Pixel Slate has been announced as a device you can use to work and to play, and it will run Chrome OS, this is the first time they released a tablet that uses this Operating System. It is worth noting that, even though this is not an Android OS tablet, it does run Android apps.
And with the releases of new tablets like Apple's iPad Pro and Microsoft´s Surface Pro, they will like to prove they've got what it takes to be in this market.   
Google Pixel specs
Regarding to some of its most important specifications, its dimensions are 202 mm x 290 x 7 mm, it weights around 1.6 pounds and it has a 12.3 inches display with a 3K x 2K aspect ratio.
The battery is designed to last up to 10 hours. It comes with two cameras, one on the front and one on the back, of course, both of 8MP.
The Pixel Slate comes with two USB-C ports and -as you might guess- it does not come with a 3.5 mm headphone jack. As we can see, the use of Bluetooth accessories for audio is a continuously increasing trend.
Depending on the price you pay, ranging between US$599 and US$1599, you´ll find different processor, RAM (From 4GB to 16GB) and Storage (From 32GB to 256GB) options.
You might be also interested in reading: Android Apps for Tablets
But, What's really new in the Google Pixel Slate?
Well, for start, Google is using a new technology to deliver a brighter and sharper look to the screen, so you´ll have a pretty neat picture with this tablet.
You can also split the screen to use two apps at the same time, just like the cool two places at once feature first introduced in Android Nougat 7.0  
Besides, they´ve incorporated two stereo speakers on the front that make it sound louder than other devices do normally.
Of course, it will be compatible with Google Assistant for the joy of all users.  
Pixel Slate accessories
You can also connect the highly adjustable Pixel Slate Keyboard -sold separately- and turn your tablet experience into a laptop experience. One great thing about this keyboard is that it comes with a trackpad, something we don't usually get.
In terms of design, they went for a rounded keyboard, which is a feature that makes this tablet sort of different.
Plus, it will have support for the Pixelbook Pen for writing and drawing.
Wrapping up
The Google Pixel Slate is projected to be an hybrid device. It comes with a powered desktop operating system that includes the G Suite and Adobe Acrobat, and it also provides you the mobility and app support of a tablet.
As users have started to get this type of devices for a daily-basis use, this seems like a good move from Google to start competing in the tablets market again. We´ll see how this works out for them.
Tell us, What do you think about the Google Pixel Slate? Do you think this new device will let Google compete in the tablets market?